The diamond-studded
Indian Premier League (IPL) winner's trophy
, encrusted with other precious gems like rubies and yellow and blue sapphires, was unveiled on Monday by
IPL
Chairman and Commissioner Lalit Modi.
"It's a handcrafted and very expensive rotating trophy, the value of which, I will not reveal. It has been crafted by ORRA's design team," said Modi at the trophy unveiling function.
Refusing to disclose the value of the
IPL
trophy, Modi said, the winning team, who would be richer by $12,00,000, would get to keep the replica of the
IPL trophy
as the original one was a rotating trophy.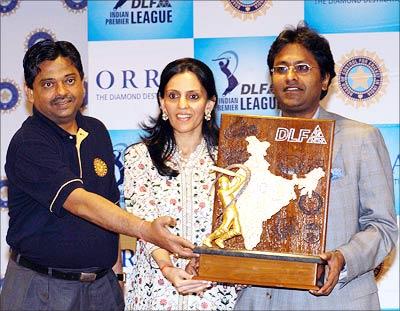 "With ORRA's big reputation, it was an obvious choice for us to commission ORRA for creating a truly distinct and exquisite work of art, one befitting the stature and success of the
IPL
.
"Needless to say that the
trophy
that has been unveiled now, will definitely take pride of place in the trophy showcase of one of our franchises after the grand final on June 1," he said.
The
IPL Trophy
, which has a player in gold leafing, holding a bat adjacent to a map of the country with the names of the
IPL teams
engraved in it and symbolised by eight rubies, was crafted by 14 artisans, said chief designer Mona Mehta.