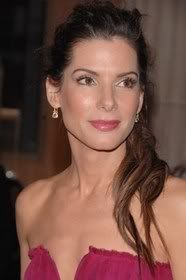 Sandra Bullock and her husband, Jesse James, were hit head-on by a drunk driver in Gloucester,Massachusetts last night.

Bullock and her husband were being driven home at around 9:50 pm when a gray Subaru station wagon jumped lanes and smashed into the front end of their car.
Thankfully, nobody was injured, but 64-year-old Lucille Gatchell who was behind the wheel of the 'other' vehicle, was arrested after she blew a .20 on the breathalyzer - two and a half times the legal limit.
Sandy and Jesse were in a rented SUV that was being driven by someone else. The Gloucester Police Lt. said as he approached the scene, James and Bullock were hugging each other. They said they were fine, they didn't need medical attention. There were quite a few people snapping pictures of them."
"Mrs. Bullock was very personable and was concerned for drunk driver's well-being."
The actress played an addict ordered into rehab after a drunken-driving accident in 2000's "28 Days," a role that left her with compassion for alcoholics.
"It's a disease," she told the Herald in a 2000 interview. "It's not your fault and you may be predisposed to it and you don't know until you take a drink. It's not the person's fault, it's the behavior.
Lucile Catchell is seen in her booking photo after being arrested by Gloucester police for drunken driving.