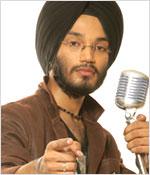 In a very tragic turn of events the winner of 'Voice of India' singing contest, Ishmeet Singh, died under mysterious circumstances on Tuesday by "drowning" in a swimming pool in Male, the capital of the Maldives.
The second year Bachelor of Commerce student of MNC College, Mumbai, had gone to the pool for frolicking, but fell into its deep end leading to his drowning, said the hotel official.
The 19-year-old singer hailing from a middle-class family in Ludhiana, Punjab had gone to Maldives for a promotional event with the music company with which he had a contract.
Relatives at Ishmeet's residence here said the family was informed telephonically by the music company officials that Ishmeet died while swimming in a hotel pool in the Maldives.
Relatives, friends and admirers of the singer made a beeline to his house even as his shocked parents tried to come to terms with the untimely tragedy. A pall of gloom descended on the locality.
Ishmeet had Nov 26 last year won the '
Voice of India'
singing contest, pipping his closest rival Harshit from Uttar Pradesh in a keen contest. He was given the winner's trophy by legendary singer Lata Mangeshkar herself.
Punjab Chief Minister Parkash Singh Badal said the country had lost a 'gem' and a 'void had been created in the music world that would be hard to fill'.
People in the film and music industry with whom Ismeet had associated were shocked by the news of his death.
Ishmeet's death plunged the music world into mourning and leading playback singers Lata Mangeshkar and Abhijeet and Shaan expressed shock at the incident.
"I was very happy when he won the Voice of India contest. Such a fate to befall one at such a young age -- I have no words to express my feelings," said Lata.
She said Ishmeet had an original voice and did not imitate anyone.
Reminds one the song which says" there are flowers which never even got a chance to bloom ...
May he rest in peace